Moving is certainly quite stressful, however, it doesn't need to be if you choose the right moving company to facilitate your move. F Smith & Son Removals is the company to call as they pride themselves in making each and every move personal. This is a well known and family run business that has been around since 1930 and not only offers local removals within the UK but also internationally. They also do commercial removals and even offer domestic storage if you have items that you don't want to move to your new property but aren't quite ready to throw them out either.
Now, we'll dive into some of the best packing and moving tips that will ensure your move is as smooth and successful as possible.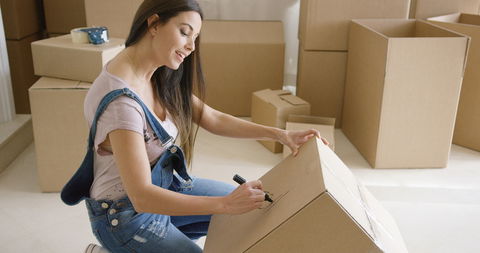 Our very first tip is to get organised. It is easy for a move to get chaotic, very quickly. So, we recommend that you take the time to organise your home and plan out which items should be packed first and in what order. One good idea is to pack according to the rooms in your home. So, for example, all of the living room items should go together, kitchen items together etc. This will make it a lot easier to unpack all of the related boxes in each room that they are meant to stay in.
Next, before packing, you should take note of all of your furniture or personal items that are very valuable and fragile. For example, glass sculptures should definitely not be packed next to heavy appliances as a single jolt of the moving van can cause it to break. Instead, you may want to consider carefully wrapping up your fragile belongings and packing and moving them yourself in your personal vehicle. If that isn't possible, make sure you clearly communicate with your moving company about your fragile belongings and inquire about how they will adequately protect and transport them.
Many people often make the mistake of starting to pack a day or a few days before the move is supposed to happen. This is a huge mistake and will result in a lot of mistakes and chaos. After all, you didn't accumulate a household worth of stuff in only a few days, so you won't be able to pack it all in a few days. Instead, you should start packing a few weeks ahead and take at least one or two hours every day to pack. This will make packing a lot less stressful and you'll be able to get everything done ahead of time.
Lastly, no matter how far or near you're moving, you should definitely pack a care bag for yourself and each person in your family. Moves, no matter how small, will take several hours and will be quite tiring. So, make sure that you and your family are well taken care of by having individual bags filled with food, water, snacks, a fresh change of clothes, toiletries, medications and other necessary items. This will definitely come in handy when you're tired and hungry and don't have the energy to sort though boxes to find the above items.
To wrap things up, once you follow the above tips, moving will go a lot easier. However, hiring the right moving company is extremely important, especially one that is professional and very experienced. So, be sure to give F Smith & Son Removals a call and check out their website, https://www.fsmithandson.co.uk/ for more information.